Robin Hill Park
---
General Information
Moon Parks and Recreation offers many programs, special events and amenities for all ages and interests.

Amenities:
Over 140 acres of natural landscape
Miles of walking trails
Fleur de Lune Garden
Robin Hill Center - Twenty-four room Georgian-style home
Robin Hill Carriage House
Authentic 1800's log home
Gazebo
History: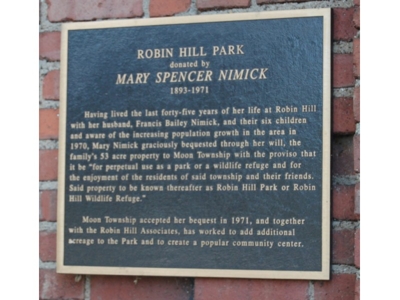 Tobacco-Free Resolution
- Moon Township parks and playgrounds are tobacco free zones.
---
Location:
949 Thorn Run Road
Moon Township, PA 15108
To view the Robin Hill Center, please call 412.262.1703 to make an appointment.