Virtual Recreation
---
Welcome to Moon Parks and Recreation's Virtual Recreation Page!
---
Would you like to share a great idea or resource with us? Email us at info@moonparks.org.

Please note that we do not endorse or receive funds to advertise any of the third-party sites or services listed or referenced on this page.
Biba Playground App

Summer Camp-In-A-Bag

Earth Day Activities

Exercise Your Brain

Fitness on Demand

Ms. Lisa's RAD Corner

Nature Scavenger Hunt

Senior Connection



---
---
- EARTH DAY ACTIVITIES -
Earth Day's 50th Anniversary!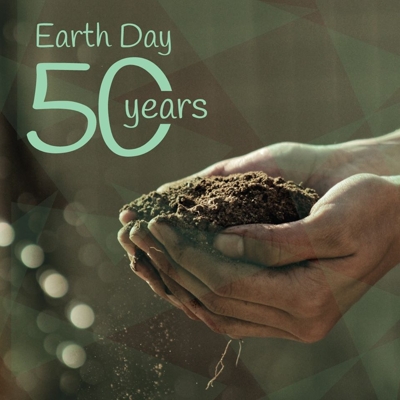 April 22, 2020 marks the 50th anniversary of Earth Day. Our Moon Parks Earth Day celebration has been postponed to August 16, but there are many things you can do today! To recognize this very special 50th anniversary of Earth Day, here are
50 ways to celebrate Earth Day
while practicing social distancing. Also, check out
Ms. Lisa's RAD Corner
and our
Scavenger Hunt
for additional Earth Day activities.
---
---
- EXERCISE YOUR BRAIN -
Moon Parks Trivia
Visit our
Facebook page
for daily Moon Parks Trivia!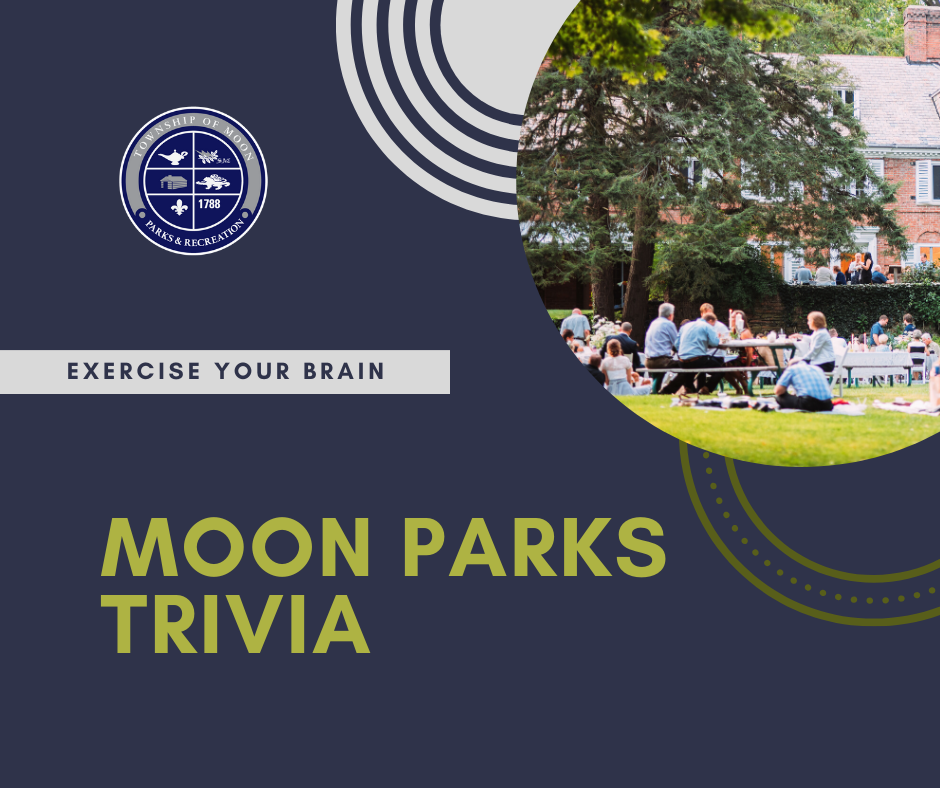 ---
---
- FITNESS ON DEMAND -
~Visit MCA-TV's Video on Demand for free online fitness classes.


More episodes are coming soon!

Choose from the Following Classes:
Core Conditioning
Senior Workout
~Visit Judy Elias' Facebook page for free Pilates workouts.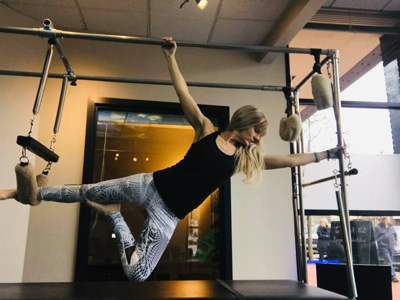 Pilates Workouts
---
---
- MS. LISA'S RAD CORNER -
Daily Recommendations for Kids!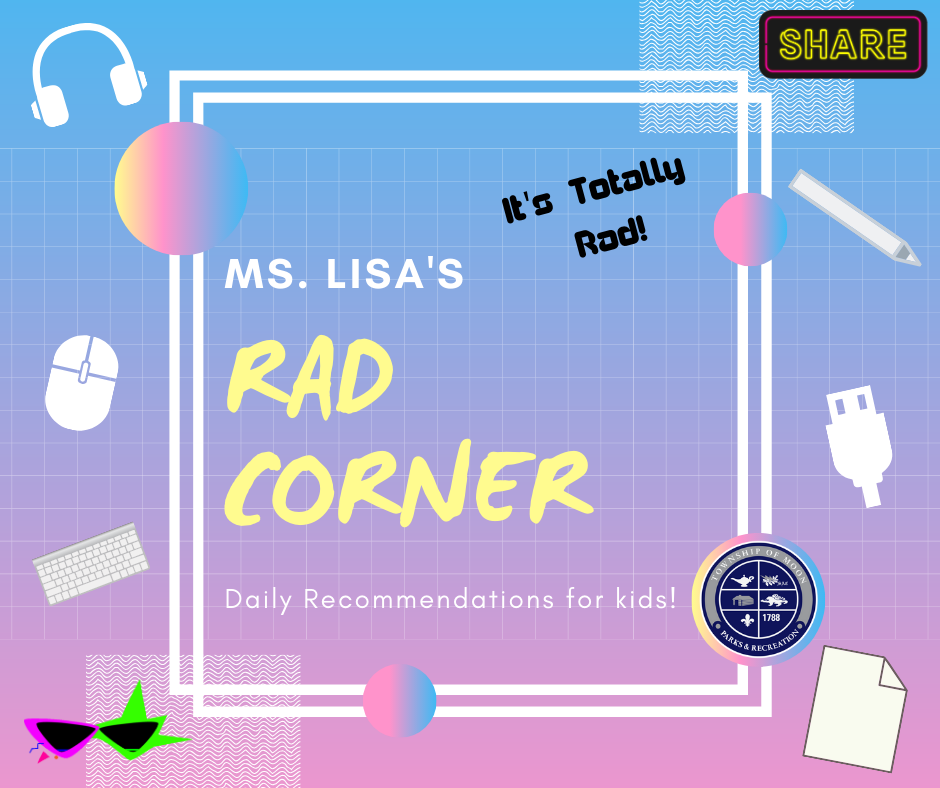 5/5 –

The Andy Warhol Museum - Rubber Stamps
I just saw this
fun activity
from The Andy Warhol Museum. I have a HUGE collection of rubber stamps at home, can't wait to try it! -
Ms. Lisa
5/4 –

May the Fourth be with You
May the Fourth be with you friends! Ms. Lisa loves Star Wars just as much as Harry Potter and I have a fun little question for you to guess. What other day in May is Star Wars related and also a special day for Ms. Lisa and why? While you are trying to figure that out, celebrate today with a fun
craft
. -
Ms. Lisa
5/1 –

Happy May Day! - Homemade Baskets of Flowers
Happy May Day! In this article, there are some fun ways to celebrate the first day of May. Ms. Lisa's favorite is leaving homemade baskets of flowers (paper or real) on neighbor's doors. What a great way to stay connected at a distance and bring a smile to everyone's faces! - Ms. Lisa

4/28 – Virtual Story Times and Programs
Are you a Library Story-time hopper? Had a schedule of libraries you visited for storytimes and programs? Check out the list of libraries that are offering virtual story-times and programs! Keep on hoppin'! - Ms. Lisa

4/27 – Pittsburgh Zoo & PPG Aquarium WILD Backgrounds
Pittsburgh Zoo & PPG Aquarium have put out some pretty WILD backgrounds you can add to your next Zoom meeting or meet-up! - Ms. Lisa

4/24 – Virtual Screenings at the Tull Family Theater
Everything on your streaming services getting old? Want to watch something new? Check out our local non-profit theater, The Tull Family Theater. They are offering virtual screenings of a lot of really interesting movies right now. I'm pretty interested in that Best of CatVideo Fest 2020 myself. - Ms. Lisa

4/23 – Water Aerobics at Home
Did you know you can do water aerobics at home? Even if you don't have a pool? ;) Check out this video to find out more! - Ms. Lisa

4/22 – Earth Day
Find everything and anything Earth Day at this link!

4/21 – Phipps Conservatory and Botanical Gardens
Phipps Conservatory and Botanical Gardens is having a virtual story time for Earth Day. Happy Birthday Earth Day! - Ms. Lisa

4/20 – Get Moving with the Pirate Parrot!
Where are my sports crazy kids?! I know it must be so hard with everything being cancelled right now but I found a little something you might like. Click here to view a video where you can Get Moving with the Pirate Parrot! What's your favorite part of going to a baseball game? For me, I love the view from PNC Park but I also love the food :) -Ms. Lisa

4/17– Nature Journaling
Another great Earth Day activity is Nature Journaling! You can find out more about it from the Chesapeake Bay Foundation here. - Ms. Lisa

4/16 – Art in the Parks
Counting down the days closer and closer to Earth Day! Download a fun coloring book from the Pennsylvania State Parks. -Ms. Lisa

4/15 – Audubon for Kids
Visit the Audubon Society's website for some awesome and interesting things as we get closer to Earth Day. What will you do at home to celebrate Earth Day? – Ms. Lisa

4/14 – Project WET Activities
Although Moon Township has postponed our Earth Day Event to August 16, the actual date of Earth Day is April 22. So, leading up to that day I would love to share some Earth Day themed activities and resources for you! Water touches every aspect of our lives—the cells in our bodies, the food we eat, the recreational activities that we enjoy, the weather and much more! Parents and kids can both explore water and the role it plays in our lives with project WET. – Ms. Lisa

4/13 – Moon Easter Bunny Neighborhood Hop Pictures
I just wanted to say how much I enjoyed looking through all the pictures and seeing so many of my favorite kids! Ms. Lisa misses you to pieces and I can't wait until we can hang out and have fun again. If we didn't get your picture, please leave a post on Facebook saying you saw the bunny or post any picture you took while the bunny was hopping from street to street! -Ms. Lisa
Moon Easter Bunny Neighborhood Hop Pictures

4/10 – Heinz History Center - History at Home
Just thinking about another really fun summer memory, from 2 years ago, I think. We had a great Summer Camp field trip to Heinz History Center. The kids were really into it. Want to pass on this great website today for you to check out. Let me know what you think! -3 Ms. Lisa

4/9 – Turner's Half Pint Coloring
Ms. Lisa here, thinking back to some fun times we had last summer. A great one was when Summer Camp was on a field trip to PNC Park and we just happened upon a Turner Dairy Farms Iced Tea car and we all got a free carton of Iced Tea! Perfect treat at the end of a really fun day. I just saw that Turner's has a really cute coloring page on their website so I thought I would share. Can't wait to make some more fun and special memories this summer! - Ms. Lisa

4/8 – Venture Outdoors - Youth Explorer Virtual Button Program
Venture Outdoors is doing a really fun program for kids 5-11. Their Youth Explorer program has tons of activities for kids to do outside and they can work their way towards earning some prizes! Get more info here. - Ms. Lisa

4/7 – Moon Parks & Recreation - Earth Day T-Shirt Design Contest
As you may have heard, our Earth Day celebration at Robin Hill has been moved to August 16, and so we have moved the T-Shirt Design Contest back to a due date of July 10! If you have the form, you can still use it or download a new one from our website. All forms should be mailed to: Moon Parks and Recreation, 1000 Beaver Grade Road, Moon Township PA 15108 - Ms. Lisa

4/6 – National Esports Association - Minecraft Easter Egg Hunt
Hey there Minecrafters! There is a really cool Egg Hunt happening at this link. We heard about this from one of our fitness instructors, so happy to have all of the awesome connections we do. If you participate, please let us know how the Eggtravaganza was! - Ms. Lisa

4/3 – Free Audible Stories While Schools are Closed
Just heard about something super rad, Audible Stories is free for everyone while schools are closed. Just click on the link and get listening! Some of Ms. Lisa's favorites: Timeless Tales of Beatrix Potter, Winnie-the-Pooh, Alice's Adventures in Wonderland and Anne of Green Gables. PS. Bonus... Harry Potter and the Philosopher's Stone is on there!! - Ms. Lisa

4/2 – Wizarding World - Harry Potter at Home!
Something rad and MAGICAL today! If you know Ms. Lisa, you know she is a big Harry Potter fan, to put it mildly. So, it is super exciting to hear about the new Harry Potter at Home website. You have to check it out ASAP! - Ms. Lisa

4/1 – National Aviary - CyBird Learning!
Today's rad recommendation is from @National Aviary, an organization that we have worked with for many events and programs over the years. They have some amazing distance learning opportunities that you can read more about here. Also check out their Reading with Red program, totally free at-home reading program! - Ms. Lisa

3/31- Mad Science TV
Another great program partner we have worked with for many years is Mad Science. Mad Science TV is a new online program they are offering for kids K-6th. You can register though their website. Later this summer we will be offering a half day camp with Mad Science also, find out more here. - Ms. Lisa

3/30 – Snapology Online!
Snapology has been one of our long-time program partners and they are now offering online programs for kids and families! Check out their website for a full schedule but I think the Online Scavenger Hunt looks pretty fun. Read more about it here. Later this summer we will be offering a half day Snapology camp: -Ms. Lisa

3/27 – Crash Course and SciShow for the Older Kids
Here is something for the older kids to look into. With everyone out of school, you may not have virtual assignments or e-learning yet but maybe you also don't want to fall behind either. If you haven't seen CrashCourse and SciShow videos on YouTube, take a look. I bet you can find a video on the last topics you were covering in school or maybe you can learn something totally new! - Ms. Lisa

3/26 – The Kennedy Center - Lunch Doodles with Mo Willems
One of my (Ms. Lisa) favorite children's book characters is The Pigeon. You know that pesky pigeon who always wants to drive the bus? Well, author and illustrator, Mo Willems is doing a daily Lunch Doodle on YouTube you just have to check out! - Ms. Lisa

3/25 – Random Game
Ms. Lisa is back with another fun recommendation! This is a game that my daughter, Mary-Jane, and I invented. Some may know Miss. Mary-Jane, she is the 3rd grade teacher at the Mooncrest Neighborhood Programs. When she was little and we would take walks we would play, what we called, the Random Game. We only played with two people before so feel free to experiment with more people. As we were walking, we would take turns saying a random thing, object, animal, color, number, place, etc. I don't think we used people names but almost anything else was fair game. When you call out your thing, the other person can challenge you and say something like "you said PURPLE because that house over there has purple shutters". And so, then the first person would have to try again. What you call out has to be totally random and unrelated to anything around you! It's sounds easy but it isn't! Exercise your brain as you exercise your body! Stay safe and healthy out there.

3/24 – Carnegie Science Center Daily Posts
If you love Ms. Lisa's daily posts, you have to check out the rad posts that @cCarnegie Science Center is doing! Every day at 8am, visit their website for awesome things to read, watch and do! - Ms. Lisa

3/23 – Color a Smile - Color and Bring a Smile to Someone's Face
Hope everyone had a safe and healthy weekend! Ms. Lisa is back, and I wanted to share an awesome site where you can help others feel a little happiness through the mail. www.colorasmile.org is a great site where adults and children can color pictures and they will be sent to senior citizens, troops overseas and other people who need a smile. You can even donate a subscription to someone you know who might love a little extra smile in the mail though the year. - Ms. Lisa

3/20 – iNaturalist is a Super Rad App
Today I have to tell you about this super rad app called iNaturalist. If you are taking some time to explore your backyard, this a great app to take with you. It is interactive while you observe and identify different species of plants and animals. Get your parent's permission before you download, and it really is great for everyone in the family! You can even join a project called "The Natural World of Moon Township", so rad. - Ms. Lisa

3/19 – Google Arts and Culture - Kenai Fjords National Park Virtual Tour
Ms. Lisa here. I have been checking out all these virtual tours you can watch, and I found a super rad one. Check out Kenai Fjords National Park in Alaska . So cool (get it, ice? haha!). Also, fjord is a fun word to say, try it!

3/18 – Pennsylvania Game Commission - Live Bald Eagle Footage
Ms. Lisa here again! Have you said hi to a bald eagle yet today? Well, now's your chance. Click here to see live footage.

3/17 – Moon Township Public Library Offerings
Ms. Lisa here, sharing some of my favorite rad finds for kids! Make sure to check back every day for new ideas and awesome links. Today, I just have to tell you about my friends Ms. Heather, Ms. Megan and Ms. Sarah over at Moon Township Public Library and Moon Township Public Library Children's Department. They are doing some super cool stuff like online story times and YouTube videos. You don't want to miss it
---
---
---
---

- SENIOR CONNECTION -


Time to Connect – Moon Township Senior Connection Newsletter:

April 2020 Newsletter
Click HERE to view the entire newsletter.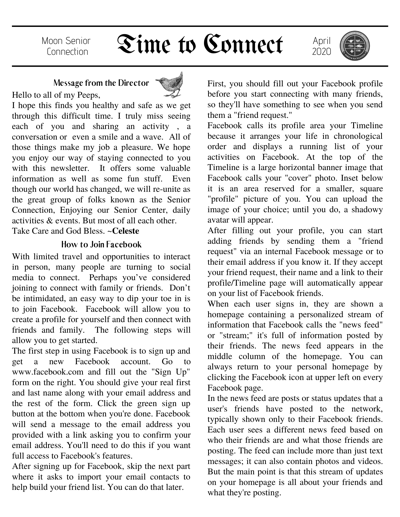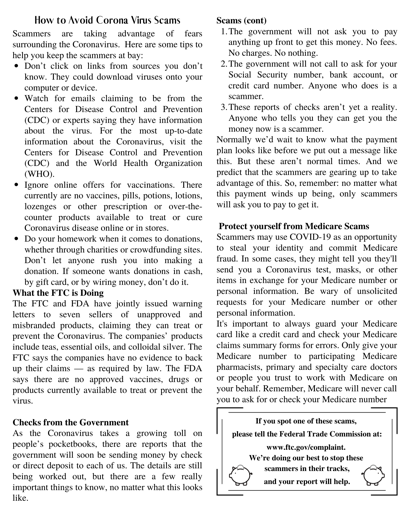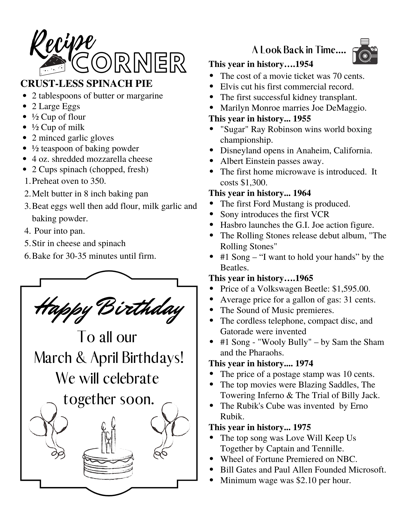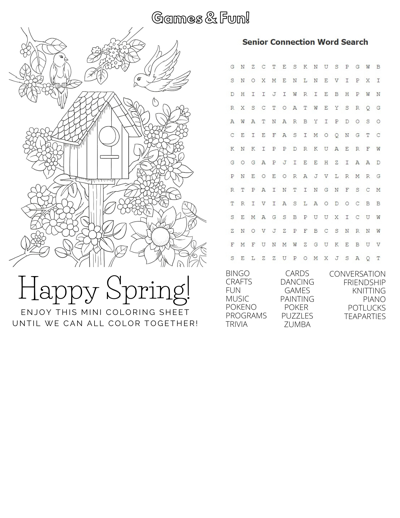 - Click HERE to view the entire newsletter.