---
Happening Now
---
Moon Easter Bunny Hop
Date:
Saturday, April 8th
Time:
1:00-3:00pm
Fee:
FREE
Place:
Robin Hill Park
Pre-Registration Required Here
On Saturday, April 8th the Moon Easter Bunny will be arriving at Robin Hill Park. This fun event will feature activities for kids of all ages. Complete a scavenger hunt, visit with the Easter Bunny, enjoy a snack on the patio, and play games on the lawn.

---
Moon Earth Day
Date: Sunday, April 23rd
Time: 1:00-3:00pm
Fee: FREE
Place: Moon Park
Sign Up to Volunteer Here
Celebrate Earth Day this year with a "hands-on" outdoor experience! Join our free Community Park Clean Up and Environmental Engagement activities at Moon Park on Sunday, April 23rd from 1-3 pm. Come dressed for the weather and ready to volunteer. The theme of this year's event is "Woods for Wildlife" to kick off a new township wide Community Wildlife Habitat certification process with the National Wildlife Federation.

Moon Parks Earth Day Design Contest
(Open for grades K-4 in the Moon Township area!)

Please place your design in the form at this link (Earth Day Design Contest Form) or attach another piece of 8 1/2 x 11" paper to the design contest form. All entries must relate to the Earth Day theme: "Woods for Wildlife" The theme focuses on our township wide project to become a certified Community Wildlife Habitat through National Wildlife Federation. All entries MUST be a SINGLE BLACK COLOR design with text and/or art designs. One design will be featured on our official Earth Day bandana. The design winner will be presented an award at the Earth Day event on April 23rd at Moon Park. Contest is open to Grades K-4 in the Moon Township area.

Ways to Enter: (Entries must be received by Thurs, March 30th)
Email: info@moonparks.org, subject line "Earth Day Design Contest."
Mail: Earth Day Contest c/o Moon Parks and Recreation, 1000 Beaver Grade Road, Moon Township, PA
Drop-off: Moon Park Office during business hours- Mon-Thurs 8:30-4:30 Fri 8:30-Noon. 1350 Joe Denardo Way, Moon Township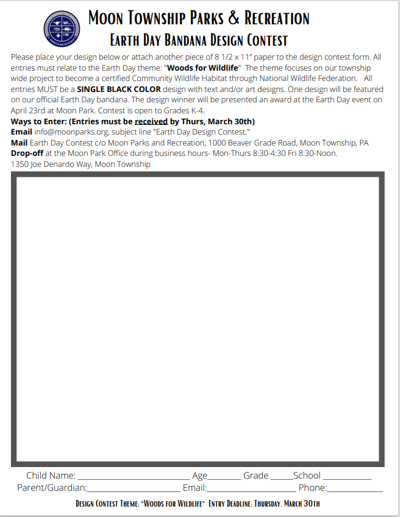 ---

The Spy Who Killed Me...A Murder Mystery Dinner Theater with Musical Mysteries & More!
Date: Saturday, May 6th
Time: 6:00-10:00pm
Fee: $80 per ticket
Ticket Link: Purchase Tickets Here
Place: Pittsburgh Airport Marriott
The Moon Parks Foundation invites you to attend our 2nd annual community fundraiser, a Murder Mystery Dinner Theater, benefiting Historic Robin Hill Center with a portion of the proceeds to be donated to the Moon Township Volunteer Fire Company. Ticket price includes entertainment, hors d'oeuvres, three-course meal & drinks. There will be door prizes, a 50/50 raffle, silent auction items & raffle baskets. All are welcome who are 21+! Come in your best date night attire!

Thank you to our sponsors for making this event possible!

Presenting - Brewer Airport Toyota
Beverage - Air Ground Xpress
Entertainment - Campbell Durrant, P.C.

---

New! Touch-A-Truck
Date: Saturday, May 20th
Time: 11am-3pm
Fee: FREE
Location: Moon Park
Stop by Moon Park to see trucks from all over! Enjoy meeting those in our community who operate the trucks, take a picture with them & ask questions. Food Trucks will be available as well.
---
Check our Events Page for More Information!
---
Event Photos
Check out the numerous photos from past events HERE!
---
Get Involved
---

Moon Parks & Recreation offers a variety of programs and classes throughout the year for all ages and skill levels. Check out our current program and event pages on our website or Facebook Event Calendar .

Facebook Event Calendar

Online Registrations

Sponsorships

Volunteer

Moon Messenger

Join Our Email List

---
Moon Park & Robin Hill Reservations
---
Robin Hill Center Rentals - First Day to Make Reservations for April 2024
Robin Hill Center can be reserved up to one year in advance. Monday, April 3, 2023 will be the first day to reserve an April 2024 date. Beginning at 8:30a.m. on April 3, please leave a message at 412-262-1703 Ext. 404 indicating the date that you would like to reserve. Callbacks will be made on Wednesday, April 5 in the order of messages received from April 3, 8:30a.m. and on.
Additional rental information can be found HERE.

Moon Park Pavilion Rentals
Reservations are now available for the 2023 pavilion rental season (May through October). Pavilion rentals are reserved by the day (9a.m.-11p.m.) and are available 7 days a week during our rental season. Monday-Friday are weekday rates. Saturday & Sunday are weekend rates. Call the parks office at 412-262-1703 Ext. 404 (Tues/Wed/Thurs) for availability and to make reservations.

General Availability for Weekends:
May: Sold out on May 20, 27, 28.
June: Sold out on all weekends except Sunday, June 18 (Father's Day)
July: Sold out on all weekends except Sundays, July 23 and 30.
August: Sold out on Saturdays, August 5, 12, and 19 and Sunday, August 27.
September: Sold out on Saturday, September 9.
October: Pavilions available on all weekends.

Additional rental information can be found HERE.
---
Park Alerts
---
Winter Hours
Park hours will be Dawn to Dusk through April 30th.

Moon Township Memorial Garden - Temporarily Closed
The Moon Township Memorial garden is temporarily closed due to surrounding construction. We are still accepting brick orders for this location, but there may be a delay in the installation time.

Trail Update
Trail work continues at Robin Hill. Currently only the Log Cabin, East Beach, Black Cherry, and West Beach Trails are open. Thank you for your patience. We ask that trail users not enter cordoned off areas.

Athletic Fields and Courts
Tennis and Pickleball Court nets are up.

Tennis Courts will be reserved for the Moon Area High School Tennis Team on the following dates (from 3-6pm): 4/3, 4/4, 4/12, 4/13, 4/17 & 4/27

Athletic fields are now open to organized sporting groups and can be reserved. To find out more information about field reservations, please call the parks office at 412-262-1703 ext 406. Reserved groups have priority for field use. Due to high demand reservations will not be allowed for any tennis, pickleball, or basketball courts this summer.

Moon Parks and Recreation Office
At this time the Moon Township Parks and Recreation Office remains open by appointment only. Please call 412-262-1703. Our staff is available during township business hours.

COVID-19 Updates
We ask that people continue to practice social distancing at all Moon Parks. Please social distance with 6 feet of space, wear masks when in groups, wash or sanitize your hands frequently, and stay home if you are sick. In accordance with State and Local guidelines, Moon Park is open daily. All playgrounds, pavilions, fields, facilities, and restrooms are open. Please be sure to wash or sanitize hands frequently. Please visit Moon Township's website for additional information regarding COVID-19.


---